What is CrossFit?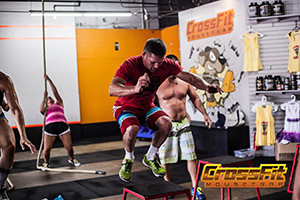 The CrossFit prescription is performing "functional movements that are constantly varied at high intensity." CrossFit is a core strength and conditioning program. The CrossFit program is designed to elicit as broad an adaptational response as possible. CrossFit is not a specialized fitness program but a deliberate attempt to optimize physical competence in each of ten recognized fitness domains. They are as follows:
Cardiovascular and Respiratory Endurance
Stamina
Strength
Flexibility
Power
Speed
Coordination
Agility
Balance
Accuracy
The CrossFit program was developed to enhance an individuals competency at all physical tasks. Our athletes are trained to perform successfully at multiple, diverse, and randomized physical challenges.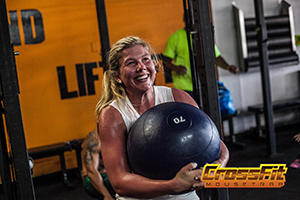 Who is CrossFit For?
The CrossFit program is designed for universal scalability making it the perfect application for any committed individual regardless of experience. We've used our same routines for elderly individuals with heart disease and the most elite military. We scale load and intensity to fit the needs of each individual.
CrossFit is intense, but we strive to make the intensity relative to whatever you are capable of. The workout of the day is the same for everyone, but we can tailor it to meet the needs of each individual. When you walk in to a CrossFit facility, you may see a 70 year old, a 25 year old, a teenager, and a firefighter all working alongside each other at their own capacity, but toward the same end result.
The ability to scale the workout for any level is one of the reasons that the CrossFit program is so successful. Scalability allows athletes to gauge their progression by measuring the increase in weight/reps or decrease in time in repeated workouts. Scalability allows all athletes to workout together as one community, regardless of fitness level. Scalability also works in both directions. We scale down for newer crossfitters, injured crossfitters and whenever necessary. We scale up for crossfitters who need a more challenging workout in order to achieve optimal results. Classes are run by professional, crossfit-certified coaches who are committed to teaching proper technique, encouraging intensity, and maintaining class structure.
Visit Crossfit Mousetrap for more information.
Do you want to be a "Featured Guest" on our website? Fill out the comments form below and let us know which month you would like to reserve. All you have to do is provide your original content, including photos, and your website address, for your chance to be featured.
Learn more about how Whole Body Cryotherapy can help benefit your CrossFit training program, both pre- and post-training! Click Here.