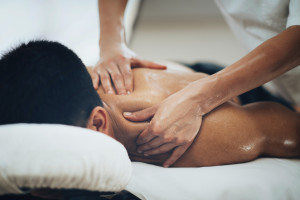 Please arrive approximately 10 minutes before your session is scheduled to begin. You will be given a health history form, and an opportunity to talk to your therapist about your goals and expectations for the session. Feel free to fill out our new patient forms before you come in!
Your massage therapist will take you to a private room where she will then leave while you disrobe to your comfort level and lie down on the massage table under the linens. You will be draped during the entire session, except in areas where the therapist is working.
Before beginning the session, your therapist will ask you to alert them if, at any time during the session, a technique or stroke they are using is uncomfortable. Depending on your specific needs or requests, your massage therapist will either perform a customized full-body massage (for general relaxation and stress reduction) or focus on the specific parts of your body that you have requested. Orlando Sports Chiropractic uses only the highest quality hypo-allergenic massage creams and lotions during your treatment.
After your massage you will feel relaxed, and you may feel relief from long-term muscle aches and pains. This relaxation can last for days or weeks after your session. Some clients may also experience mild soreness, achy feeling, or headaches after a massage. This is perfectly normal. Your body stores metabolic waste products (primarily lactic acid) in your tissues. These waste products are the by-products of physical activity or prolonged muscle tension. We ask that you increase your water intake for at least 1-2 days after your massage to help flush this lactic acid out of your body. This will help to prevent or relieve any soreness that may develop.
---
MM 20335