Orlando Sports Chiropractic Provides Detroit Pistons Cryotherapy Treatments for Performance & Recovery Benefits
With all the hype about the superior performance and recovery benefits of whole body cryotherapy throughout the sports world, elite athletes across the country are making it a priority to visit their local cryotherapy providers nationwide and to implement cryotherapy as part of their daily training regiment in hopes of gaining the winning edge during a very crucial phase of their athletic career.
Summer League 2015 has been offering an exciting NBA off-season action, with the Orlando Summer League in full swing and then giving way to the freshly revived Utah Summer League soon thereafter.
Undrafted free agents and other prospects did what they could to catch the attention of their own coaches and the assembled executives and scouts. Top-flight rookies and experienced sophomores stole the show in both locations, which is how it should be.
But what are these players doing to ensure that they secure their spot on their teams and get noticed, without risking any unnecessary injuries during this pivotal point of their basketball career?
Many have been turning to whole body cryotherapy to give athletes the winning performance advantage that will allow them to play at their optimum levels and then to recover faster and do it all over again the next day. In the case of the Detroit Pistons cryotherapy was their first choice to achieve the best performance and recovery results.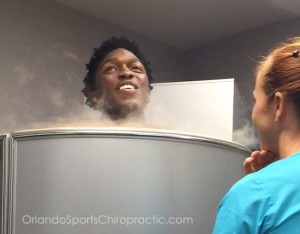 It's no wonder why the Detroit Pistons' players have sought out Orlando Sports Chiropractic, to help achieve their true potential by adding whole body cryotherapy into their daily training regiment while visiting Orlando, Florida. You would think that extreme-cold temperatures would be the last thing on a players mind when visiting the "Sunshine State" especially from Detroit, Michigan, but when it comes to an NBA player's career, you can bet that they will invest whatever they need, to ensure that they secure their future.
With whole body cryotherapy, individuals are subjected to extreme cold temperatures, as low as -170 C, but as cold as it seems, most athletes prefer the 3-minute cryotherapy sessions over ice baths because of the immediate relief it provides without the long-term recovery process that your body has to undergo after an episode of near-hypothermic conditions.
During their visit to Orlando Sports Chiropractic, Dr. Sabrina Atkins, Florida's leading chiropractic expert on Whole Body Cryotherapy and provider of Cryotherapy in Orlando, also provided the athletes with chiropractic care, compression therapy, Graston techniques and other services related to helping them with any issues that arise during a very competitive event such as the Orlando Summer League.
"We use the best whole body cryotherapy cryosauna in the country, manufactured in the United States by Majestic Cryo, to assist our patients and our elite athletes, recover faster from their injuries or just prior to a sporting event to give them the performance boost they are looking for," explained Dr. Atkins.
Even Elfrid Payton of the Orlando Magic "Chilled Out" and stopped by to use cryotherapy for increased performance before his games along with track athlete Jason Richardson who visited Orlando Sports Chiropractic after the USATF 2015 Outdoor Championships in Eugene, Oregon for his recovery regiment.
With more athletes seeing the valuable effects and the beneficial results of whole body cryotherapy, and the increased importance that people are putting on a more healthy lifestyle, cryotherapy will soon become a mainstream therapeutic treatment like massage has done for the wellness industry, but with more advantageous results.
To learn more about the benefits of Cryotherapy, make sure you visit OrlandoCryo.com
---